When it comes to rock royalty, Guns N' Roses guitarist Slash is pretty much a fully paid-up member. And, given his easy-going nature and former fondness for a drink every now and then, it should come as no surprise to Classic Rock readers that he counts most of today's big-hitters among his closest companions, as well as some of rock's dearest departed. 
The roll-call of guests on Slash's solo albums reads like a modern day Who's Who of classic rock. And for every story about Dave Grohl or Fergie from The Black Eyed Peas, there's a tale of spending a night on the tiles with Lemmy in 80s London, seeing Ozzy Osbourne get thrown out of bars, and getting Keith Moon to perform Uncle Ernie for him in front of his parents. 

Keith Moon
I loved The Who. I'd seen Tommy when I was young and I thought it was great. I can't remember exactly where it was that I met Keith, but it was in LA and at some sort of convention centre or something like that. I would have been with either my mom or my dad, as I think I'd have only been about eleven at the time. 
But I remember it so well because I got him to do Uncle Ernie from Tommy for me. I still remember it so well to this day because it's my favourite moment ever of meeting a famous rock star.
---
Alice Cooper
Alice Cooper made a real big impression on me when I was a young musician coming up through the ranks. I remember we opened for Alice Cooper and he kind of took us under his wing, as he seems to have done with quite a few musicians over the years. 
It's kind of like having that fucked-up father figure, ha ha. But I absolutely love Alice, and he's a perfect example of someone who has been so influential and who's been there and done it in rock'n'roll. And he was also really cool and really in control of his fame. That had a really big impact on me.
---
Aerosmith
Opening for Aerosmith was a pretty big thing for me too at the time. When I was in junior high they were really my heroes, so you can imagine how I felt when Guns N' Roses supported them. It was like a dream come true for me. I think subconsciously you take everything in that's going on around you, no matter how oblivious you might seem, especially me. You want to see how things work and how things act in certain situations. Even the little things. I don't think it's a conscious thing, more a subconscious awareness. 
We had a lot of interaction with the band, too. I remember our first soundcheck, and Steven Tyler came over to introduce himself. We got to know the band pretty well after that. We were pretty close for the whole tour
---
Fergie (Black-Eyed Peas)
It really opened my eyes when I first heard her sing. I got asked to do this fund-raiser in Los Angeles a few years ago. I went down there and Fergie was in the band, but I had no idea who or what she was. But when she came on and sang Black Dog by Led Zeppelin I was amazed at this great voice coming out of this little white chick.
I've played with her several times now, a few before she sang on my record [on Beautiful Dangerous, from Slash's 2010 self-titled album]. I just haven't heard any girls come out with those kind of rock chops in the last few years. The problem is the way the industry is these days. I can name a handful of girls who can sing rock great, but they can't get a foot in because it's not pop.
---
All things considered, the Metallica/Guns N' Roses tour of 1992 was great inasmuch as it was the massive event that it became. It was also a serious clash between the Guns N' Roses schedule and the ideology of Metallica. That caused… well I wouldn't say friction, because there wasn't really what I'd call friction between the two bands, but there was certainly a certain mood that was evident. That was really a drag, because I'd been friends with James and Lars before that tour, and I honestly don't remember ever spending any time with them at all during that tour. 
And of course there was the incident in Montreal where James burnt his arm, and then Axl didn't even show up for after an hour after we were supposed to go on. That caused a big thing. But a lot of that stuff that went down was really out of my hands. To be honest, I was really quite embarrassed by what went down. It's not like we were on bad terms, but there was a definite silence around. Fortunately things are fine between me and the Metallica guys now.
---
Sebastian Bach
Skid Row supported us on the European leg of the Use Your Illusion tour in 1991, and we used to hang out with Sebastian a lot. Duff and Axl and myself used to hang around with him and get into all sorts of trouble. 
Of course, there was the letter from the council that Sebastian read out, which we thought was funny. [Brent Council, whose jurisdiction includes Wembley, had written to Skid Row requesting that they refrain from performing their song Get The Fuck Out from their then current album Slave To The Grind. Sebastian Bach responded by reading the letter to the crowd and promptly launching into said song. Brent Council immediately banned the band from performing in the borough again.].
---
I was always cool with Jim Martin, but I remember we had some issues with Mike Patton when Faith No More supported GN'R on the 1992 leg of the Use Your Illusion tour. There was a confrontation between me and Mike that came out of that on that tour. 
We had Soundgarden on the tour as well, and I remember that was when we first met Chris [Cornell] and Kim [Thayil], and we got on great with those guys. I think myself and Duff were always pretty down-to-earth and always tried to get on with the bands we used to take out on tour.
---
Lemmy
Officially I met Lemmy during sessions for Motörhead's Orgasmatron album, which they were working on about the time that Appetite For Destruction came out. Actually it was 1986, and Appetite… hadn't come out yet, but we'd come over to do some shows at the Marquee. 
Someone took me to the sessions they were recording with [producer] Bill Laswell at Master Rock studios in London. I ended up spending the night with Lemmy at the Intrepid Fox in Soho. It was a pretty timeless session. That was his version of The Rainbow Bar & Grill back over the pond in those days.
---
The Rolling Stones
As everyone knows, we played some shows opening for The Rolling Stones in 1989, and they were pretty infamous gigs. We broke up on stage the first night [at the Los Angeles Memorial Coliseum, Axl demanded that if certain members of the band didn't stop "dancing with Mister Brownstone" GN'R were finished]. We kind of got it back together the second night, but we were still at odds with each other, and then we had a magic gig on the third show. 
Unfortunately I had a lot of priorities at the time. I had things I needed to get to after the show, so I didn't get to meet Mick or Keith at the time. But I've met both of them since and they're great guys. There are photos of both bands together that were taken at those particular shows, and I'm not in any of them!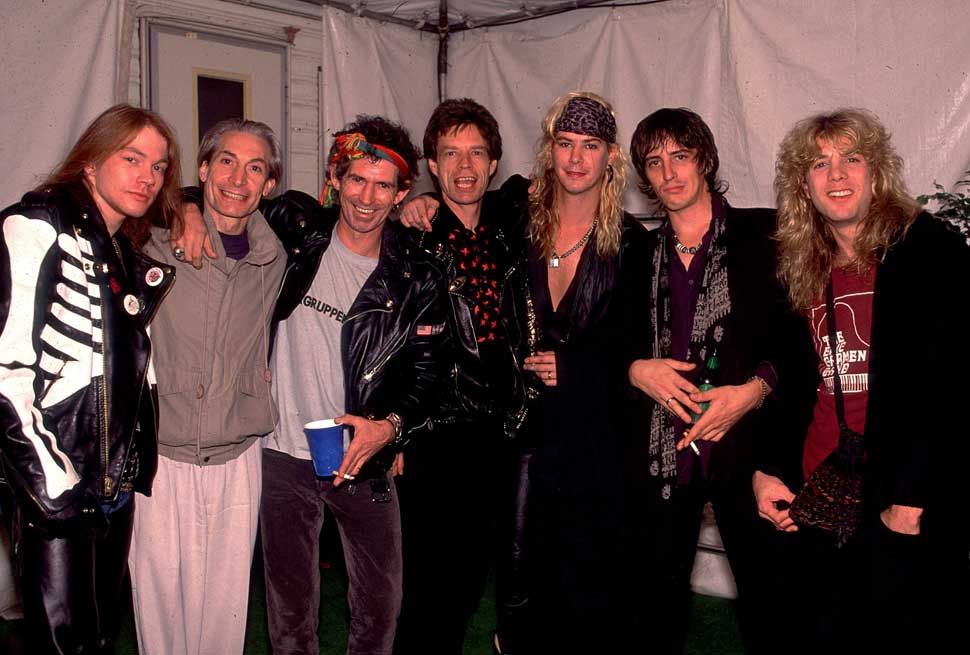 ---
Ozzy Osbourne
This is a pretty funny story, actually. I first met Ozzy at the Mondrian Hotel on Sunset Boulevard in West Hollywood when we were all in town for the MTV Awards one year – the early 90s, I think. My manager brought him over to my room. It was some time in the morning and I was still asleep, but he brought Ozzy over anyway. 
So they come into my room, and I've got a bottle of Jack Daniel's on the night stand and Ozzy asks if he can have a swig. I decide I'm going to take a shower, so I suggest I meet them in the bar downstairs. So I take my shower and head downstairs, and in the time it took me to take that shower it appears that Ozzy had passed out in the hotel bar and been dragged outside by security. That was what he was like when we first met. Needless to say I was impressed. 
---
James Brown
Hardly anyone ever asks me about James Brown, but he was one of the musicians who I've long respected, and who I got the chance to play with that really made an impression on me. I played with him at a 2004 gig at New York's Roseland [The Miller Rock Thru Time celebration] and it was great. He was very serious, and for the most part very quiet, but very much a dictator when it came to his band. I was lucky, because I kind of got to do my thing. But he ruled his band with an iron fist.
---
Dave Grohl
He's a great example of being a rock star in this age. He loves what he does, he's easy to get along with, he's got a great personality, he writes good songs and he's a fucking great drummer. And he's one of the easiest people I've ever met to get along with.
The original version of this feature appeared in Classic Rock 153, in January 2011.