Lynyrd Skynyrd: The Last Rebel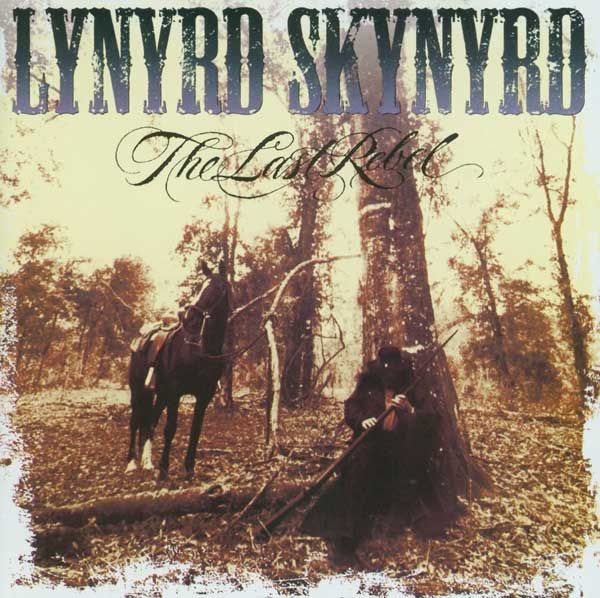 Good Lovin's Hard to Find
One Thing
Can't Take That Away
Best Things in Life
The Last Rebel
Outta Hell in My Dodge
Kiss Your Freedom Goodbye
South of Heaven
Love Don't Always Come Easy
Born to Run
There's no doubt that Lynyrd Skynyrd's albums in the 70s helped to define the southern rock genre, and those records bear up magnificently today. And while the album's they've released since reforming 1987 don't stand up against the band's classic records, it would be unfair to dismiss them as entirely irrelevant.
1993's The Last Rebel shows that vocalist Johnny Van Zandt wasn't overshadowed by his late brother Ronnie's reputation, and the line-up is as close as it could be to the band's glory days. Late founder Gary Rossington was on board, as were guitarist Ed King, bassist Leon Wilkeson and pianist Billy Powell, who'd all joined the band in 1972 and survived the 1977 plane crash that killed Ronnie Van Zant and guitarist Steve Gaines.
The album's highlight was probably The Last Rebel, a slow-burning song about the death of Southern culture. It was a highlight of the band's sets from 1992-1994, before being dropped for good, in favour of older material. 
"This is a very moody song." Rossington said. "We had to really get in the mood to record it, then we just cut it live. I wrote the music and named it at my house in Wyoming.
"The first verse is about a civil war soldier and the second verse is about me, they say, and the third verse is sort of about us – the last rebels, out on the road, still doing our thing."

Every week, Album of the Week Club listens to and discusses the album in question, votes on how good it is, and publishes our findings, with the aim of giving people reliable reviews and the wider rock community the chance to contribute. 
Join the group now.

Other albums released in February 1993
Objection Overruled – Accept
Off the Ground – Paul McCartney
Rift – Phish
Earth 2 – Earth
Native Tongue – Poison
Wandering Spirit – Mick Jagger
Slip – Quicksand
Spilt Milk – Jellyfish
Where You Been – Dinosaur Jr.
On the Mouth – Superchunk
Serenades – Anathema
Tabula Rasa – Einstürzende Neubauten
Pablo Honey – Radiohead
Fuzzy – Grant Lee Buffalo
Live: Right Here, Right Now – Van Halen
Magic & Madness – Circus of Power
Scenes from the Second Storey – The God Machine
Smoke – Drivin N Cryin
Superstar Car Wash – Goo Goo Dolls

What they said…
"The refurbished band, bolstered by a reunion with original guitarist Ed King and the addition of the youngest Van-Zant brother, Johnny, demonstrates astonishing resilience in conjuring up the Skynyrd spirit on The Last Rebel. Van-Zant, once overshadowed by his brother's legend, has grown into his role as front-man and carries the torch without being singed by its falling embers." (Rolling Stone (opens in new tab))
"Although it should please die-hard fans, the reconstituted Lynyrd Skynyrd's second studio record does little to expand the group's horizons. Aside from a few longer songs that allow the group to stretch out, the majority of The Last Rebel is by-the-book Southern rock, further undermined by Johnny Van Zant's cliché-riddled lyrics." (AllMusic (opens in new tab))
"Johnny Van Zant may not have the innate swagger of his late brother, Ronnie, Lynyrd Skynyrd's former lead singer. But give him three steps and he'll saunter a good Dixie mile in Ronnie's hat. Between them, guitarists Gary Rossington, Ed King, and Randall Hall generate enough feedback on The Last Rebel to satisfy any unrepentant '70s Ripple-er's thirst for ear blood. Besides, having the dumb nerve to title a song Born to Run is worth at least half a grade." (Entertainment Weekly (opens in new tab)) 

What you said…
Uli Hassinger: I was a big Skynyrd fan from the age of 13, when an older brother of a friend of mine played me the One More From The Road album. This was about 1980 so the band did not exist anymore. I bought all their releases after that. When they reunited in 1991 this was a big thing for me. With most of the surviving original members and Ronnie's brother on vocals you couldn't come closer to the original line up. I saw them several times in the 90s live.
Like most I think the pre crash albums are unrivalled. You couldn't top Ronnie's lyrics and songwriting and his voice wasn't the most brilliant, but it was supercool. After the reunion the old recipe was used again. Cool riffing, honky tonk piano playing, slide guitar and a combination of uptempo songs and ballads. To me the old recipe still works.
I like this one a little bit more than Lynyrd Skynyrd 1991. It contains not one weak song. With Good Lovin's Hard To Find and One Thing it starts with two crashing southern rock tunes. The Last Rebel is just a wonderful song, Born To Run not much worse. It's a very solid album and it still sounds brilliant today. The production is perfect and does not sound dated in any way.
I am very glad that I saw them on their farewell tour in 2019 which was pretty much a Ronnie Van Zant tribute with live footage of him on the video wall. Therefore only songs of the 70s were played. It was a hell of a concert. Unfortunately another of my old heroes is gone for good. RIP Gary. May you play music with Ronnie again in heaven. 8/10.
Alex Hayes: I dug out my CD copy of Pronounced 'Lĕh-'nérd 'Skin-'nérd about a week ago. It now feels strange to look at that front cover, and realise that all seven of those men gathered together on Main Street, Jonesboro, Georgia, in 1973, are no longer with us.
Funnily enough, the member of the band that stayed with us the longest was Gary Rossington, the guy that threw up onto the pavement/sidewalk (delete according to which side of the pond you reside on) immediately after the front cover shot to Pronounced... was taken. A part of me hopes that the current band members will consider retiring the Lynyrd Skynyrd name now, but I don't think they will. RIP Gary Rossington.
In certain respects, The Last Rebel shares similarities with last week's album pick, Rainbow's Stranger In Us All. Both were albums that were released during the 90s, by re-formed versions of their respective bands. Neither album was ever going to scale the artistic and commercial heights achieved by both groups during the 70s, yet both are still respectably fine records in their own right, and well worth the odd listen.
Skynyrd were still capable of putting together a damned impressive line-up at the time of The Last Rebel. Alongside Rossington, the album features sterling contributions from 'classic' members Ed King, Leon Wilkeson and Billy Powell. Johnny Van Zant really was the only logical replacement for his older brother here, but there is far less ambiguity in the lyrics, which are a lot more 'on the nose' than anything from Ronnie Van Zant.
That's a minor quibble though. Lynyrd Skynyrd are the type of band that they are, and proud of it, and I'm not gonna argue with that. I don't really need to describe the music on The Last Rebel. Any rock fan worth their salt will have a pretty good idea of how the album sounds, even if they haven't heard it. Same score as last week – 7/10.
Wade Babineau: Lucky to see Skynyrd on the 1991 tour with Gary, Ed King, Leon Wilkeson, Billy Powell and Artimus Pyle and get the majority of the original group intact. The Last Rebel carries on from where the 1991 album started… excellent title track and Good Things Are Hard to Find has that I Know A Little feel to it. Best Things In Life (co-written with Tom Keifer of Cinderella) is a choice cut along with South Of Heaven and Born To Run. One Thing and Outta Hell in My Dodge would not look out of place on a Saturday night song mix getting ready to hit the town. A solid 8/10.
Mike Canoe: Formulaic southern rock with music sounding at least a decade older than its 1993 release date – and lyrics that express sentiments about a hundred years older than that. My hopes that South Of Heaven was actually a Slayer cover were quickly dashed. Nope, just another song about meeting a "sweet thing" at a honky-tonk off of a dirt road. That sentence pretty much sums up the lyrical depth of The Last Rebel.
The only high point for me is Dale Krantz Rossington's background vocals that help take my mind off all the clichés bumping into each other. The instrumental coda for the otherwise banal Born to Run (also sadly not a cover) is also good.
I've never listened to this version of Lynyrd Skynyrd before and The Last Rebel does nothing to change my mind.
Darren Burris: A good album but not great. 5.5 out of ten. Wish you would have picked any of the pre-crash albums. But happy for the tribute. The last Free Bird has flown home. RIP Gary.
Greg Schwepe: While I have purchased many post-crash reunion Skynyrd albums, somehow this and others around the early 90s timeframe escaped me. Even being a big Skynyrd fan this and other similar Southern Rock releases were not on my purchase radar at that time. My music tastes tend to run in cycles and I was probably into some other genre hot and heavy at the time. Strange coming from someone who owned their entire catalogue and everything from their brethren; Johnny Van Zant Band, Blackfoot, Molly Hatchet, and then the Rossington-Collins Band.
Listening to The Last Rebel, this stands up just as well against their last three releases (which I bought when I got back into a Southern Rock groove). And face it, anything the band was going to put out was always going to be talked about in a "Before and After" comparison. Would anything the revamped lineup ever put out be as good as the original band? And would it matter? At the end of the day don't fans just want a live Lynyrd Skynyrd to play the iconic songs, and they will sit (or stand!) and listen to the "new stuff" that ends up in the set?
Lynyrd Skynyrd are like AC/DC in that you know what you're going to get… and not going to get. Both bands are never going to go all experimental and do a 20-minute freeform jazz odyssey, à la Spinal Tap. They know who they are and don't stray from their roots. And they also know what their fans want to hear.
This album kicks off with Good Lovin's Hard To Find"and you can hear Call Me The Breeze all over it. Never fear, it sounds like Lynyrd Skynyrd. As I listened to that track, One Thing, Best Things In Life, the title track, and Outta Hell in My Dodge" they checked all the boxes.
The "box checking" included the standard Skynyrd blueprint; lots of swampy guitar, lots more slide guitar, growling Van Zant vocals, throaty female background vocals, honky tonk piano, a few horns, along with songs about "having a good time" and a nod to the "simple life."
I will say on the more "rock" songs it seems like the band turned up the gain on their amps a little. There's a little more burn in those guitars. The revamped band seems to kick a little more when they need too.
Overall, a good album that fits in well with their catalogue. No matter what the lineup is, there's always that same "Lynyrd Skynyrd spirit" that seems to go on in their music. 8 out of 10.
Eric Walker: I've always enjoyed this album. Can't Take That Away is a favourite pre- or post-crash.
Philip Qvist: Great choice – and let's first talk about the elephants in the room; that this was a different Lynyrd Skynyrd to the original, and the post-crash albums are not as great as their pre-crash output.
That all said, they did produce some rather excellent albums following their reunion in the late 80s, and with the likes of Gary, Ed, Leon and Billy still around; not to mention Ronnie's brother on vocals (and I have to say that Johnny Van Zant has done an admirable job for the band over the years), you still have the heart of Skynyrd on The Last Rebel.
I prefer their Lynyrd Skynyrd 1991 album but this is still a pretty good record. Favourite tracks would be the title track, Good Lovin's Hard To Find, Outta Hell In A Dodge and Born To Run. A more than decent 7.5 for me.
Warren Bubb: Skynyrd made some great albums post-crash. Gods & Guns and Last Of A Dying Breed were top quality southern rock. The Last Rebel is another great album and the title track alone makes it worth listening to. It's one of Skynyrd's best songs. Joined by Good Lovin' Is Hard To Find and Outta Hell In My Dodge this is a very solid album and belongs in anyone's collection of southern rock. 7.5 for me.
John Davidson: A solid slice of southern rock. It doesn't stray too far from the formula and the lyrical focus is on the timeless values of poor, provincial folks trying to make sense of a modern world that has left them behind.
The fact that it was written 30 years ago puts it closer to their 70s output than today but the sentiment still seems to resonate which tells you something about the universality of change.
I started the album expecting to hear something pretty ordinary but tbh I found it fresh and affecting. Good pick.
Adam Ranger: The post-crash Skynyrd were never going to be the same band. I guess the 1990s were a different time to the 70s. However they did still make some great music with Jonny on vocals. I saw them live only after the reunion and they were still so good back then. Last saw them on the Vicious Cycle era.. and they blew Deep Purple off of the stage!
I prefer the first reunion album 1991 but The Last Rebel is a solid southern rock album. Nods to that old Skynyrd sound are everywhere. Favourite tracks are Good Loving Is Hard To find, and Outta Hell in My Dodge. The Last Rebel has the feels as well.
Shades here of the "In your face Gods and Guns, The USA is the greatest…" bluster they turned to on later albums on songs like One Thing, and Cant Take That Away. (Early Skynyrd were always more subtle about these things – All I Can Do Is Write About It, for example).
But its an album that's easy to listen to and enjoy and still feels authentic rather than a band going through the motions.
Gary Claydon: I could never really connect with the reconstituted Skynyrd. The 1991 album had shown some hints of promise but it didn't seem to go anywhere from there except down the path of fairly generic southern rock, which increasingly tipped it's hat to the country side. I realise it's stating the bleeding obvious but something had been lost from the band. The swagger that set Skynyrd apart was gone. There had always been a degree of subtlety to the song writing, especially RVZ's lyrics, that was now missing. It all feels a bit 'by-the-numbers'.
The Last Rebel is another of those albums that is just 'OK'. It has it's moments, the title track for instance, but not enough of them to elevate it above average. 5/10

Final score: 6.51 (56 votes cast, total score 365)
Join the Album Of The Week Club on Facebook to join in. The history of rock, one album at a time.