Iron Maiden mascot Eddie – Edward T Head, but Eddie to his friends – has for over 40 years been the first point of contact between unsuspecting, wide-eyed pubescents and the world of heavy metal. His slavering grimace has graced almost every piece of Iron Maiden merch, becoming a universally recognised and adored stamp of quality, an ambassadorial icon not just for Britain's biggest metal band, but for metal itself. He's come a long way through time and space, evolving from backstreet killer to reigning monarch. This is his story.

Iron Maiden
The 80s had barely begun when a menacing shadow with burning eyes startled an anonymous rocker in a London backstreet. With the Running Free sleeve, 22-year-old artist Derek Riggs gave us a powerfully visual sense of location to Iron Maiden's world, and a literal icon of metal lying in wait.
Our first full-facial eyeful of Eddie came in April 1980 on the eponymous debut, a snarling punkish ghoul staring out the onlooker with malicious intent (digitally reworked for a 1998 reissue to look darker and uglier).
With Sanctuary in June, Eddie took his first blood, brandishing a blade over the fallen body of UK PM Margaret Thatcher. It was a controversial image, but Maggie got her own back on Women In Uniform, poised with a machine gun as the newly-famous Eddie chats up some admirers.
---
Killers
Arguably Eddie's most iconic portrait, his features fully coalescing into that instantly recognisable visage of homicidal glee. With the Twilight Zone single a month later (March '81) we saw inside one of the flats on the Killers sleeve, where Charlotte the Harlot is visited by the ghost of Eddie – her undead lover.
The supernatural deterioration of Ed's form continued on Purgatory, where the devil manifests out of our hero's crumbling mush, presaging an imminent sequence of Eddie vs Satan fights.
Before the showdown, Eddie found time to sharpen his samurai sword skills on Maiden Japan, leading to a rare fan club edition depicting his decapitation of departing frontman Paul Di'anno…
---
The Number Of The Beast
Still in jeans and T-shirt, Eddie goes tomahawk-to-trident with Satan atop a rock in Hell, a dynamic deathmatch helping Run To The Hills reach the UK top ten in March '82. Ed's force won; on the Number Of The Beast LP a gigantic Eddie's using Satan as a puppet for fun, before hacking the beast's head off for the title track single sleeve, where he's never looked happier.
---
Piece Of Mind
May 1983: in the clouds above Hell a bat-winged Eddie halts the Flight Of Icarus with a flame-thrower. But what's that little box in the sky? We found out on Piece Of Mind's gatefold sleeve, where a lobotomised, strait-jacketed Eddie is chained in a floating padded cell. It's a radical redesign for Eddie's 'ead, and a triumph – especially for Riggsy, who no longer had to labour over Eddie's flowing locks. Thus transformed, Eddie is finally allowed out of his street threads and into the smart cavalry uniform of The Trooper. 
---
Powerslave
In 1984 Eddie was still fighting, jumping warzones from Two Minutes To Midnight's nuclear armageddon to the Battle Of Britain Spitfire cockpit of Aces High. Gorgeous as they are, they're inevitably dwarfed by the awe-inspiring grandiosity of Powerslave's epic sleeve, revealing evidence that our Ed had travelled to Ancient Egypt and was worshipped as a mighty pharaoh.
---
Live After Death
October 1985: A lightning bolt resurrects Edward T Head in a moonlit cemetery. He's grown his hair back, he's got Lovecraft on his tombstone and he's seldom looked cooler. And he knows it! For the live double A-side, Eddie has Run To The Hills to become the Phantom Of The Opera, smugly showing off his camp cape and shiny organ.
---
Somewhere In Time
April 2050: Eddie's spaceship is tracking the TARDIS to 1986. We glimpse his new cybernetic enhancements in Wasted Years' state-of-the-art green screen, saving the full reveal for the jaw-dropping splendour of the LP gatefold's breathtaking cityscape. On Stranger In A Strange Land this lean, mean cyborg gunslinger swaggers into one of the planet's bars, lights a cheroot like he's Clint Eastwood, and orders a pint of bitter.
---
Seventh Son Of A Seventh Son
Clearly, this horrific ghoul was getting far too sexy. So in March 1988 Eddie became an 'ead once more, brutally re-lobotomised by a flying fist. It was the first of many conceptual surrealist tortures for poor Ed in '88; he was radically disassembled for the LP gatefold, giving birth surrounded by ice sculptures of Eddies past. On The Evil That Men Do he's barely a puff of smoke, while The Clairvoyant chops, splices and skewers his features into a symbolic sculpture of twisted genius.
---
No Prayer For The Dying
In 1990, after a decade of outlandish evolution, a back-to-basics Ed was happy to revisit familiar themes. For Holy Smoke he's back wearing jeans in Hell; for Bring Your Daughter… To The Slaughter he's pulling 'birds' again in moonlit backstreets; and on the LP he's bursting out of another grave… It's like Eddie's invented the 80s theme party.
---
Fear Of The Dark
Like the Queen, 1992 was Eddie's annus horribilis. He started well with Be Quick Or Be Dead, rocking a bushy blond hairdo and attacking a fat tycoon, but a month later he's become a tree. The artwork by Mervyn Grant was Maiden's first non-Riggs-designed album cover, and we struggled to believe that this vicious branch was really our Ed at all; even worse, he was wholly absent from the next two single sleeves, which were utter crap.
---
A Real Live/Dead One
Riggsy's back! For 1993's first live LP, an electrified Eddie looks angrier than ever, while on the second he looks rather sad, reduced to being a shock jock for 666 FM Radio Hell. On Fear Of The Dark (Live) he's somehow become Steve Harris, lending Freudian resonance to the Hallowed Be Thy Name (Live) sleeve, where he's bonded with Satan, skewering departing frontman Bruce Dickinson on his trident. 
---
The X Factor
Clearly Eddie was having too much fun. For 1995's radical photographic re-imaginings, a prosthetic puppet Ed underwent mechanical vivisection so graphically gruesome that an alternate sleeve was needed. Maximum horror was maintained for 1996's Virus single: on CD1 he's a slavering headhunter, CD2 he's a nasty-looking slide germ, but his classical Riggs-painted features grin out of the seven inch, burning into a microchip.
---
Virtual XI
Back in one piece by 1998, Ed's never looked nattier than on The Angel And The Gambler CD2, beaming confidently with his top hat and cane – but the beast on Melvyn Grant's headache-inducing LP sleeve just looks like some eggy impostor. On Futureal the 1986 Cyborg Eddie is rendered in cheap CGI, like doing the Mona Lisa in felt tips.
---
Brave New World
The 21st century dawns: Bruce is back and Eddie is The Wicker Man! His classic Riggs-rendered features coalesce in smoke over futuristic London, before the flesh-and-bone Ed hosts an intergalactic press conference Out Of The Silent Planet, apparently revealing a new alien life form – and a version of Earth with a breathtakingly oversized UK.
---
Dance Of Death
Another haircut, another top hat, and our hero now spews racing cars on 2003's Wildest Dreams – although by Rainmaker he's grown his most realistic ever head of hair. Meanwhile, on the album cover, Eddie becomes the Grim Reaper – an event of such intense magnitude it apparently broke the entire artwork.
---
A Matter Of Life And Death
Ed was back in a cemetery for 2006's Reincarnation Of Benjamin Breeg – this time robbing the grave, not escaping it. Riggsy's original inspiration for Eddie's 'ead came from a painted skull on a Vietnam War tank, so it was great to see him back on a tank for the LP sleeve, leading his undead army into battle. For Different World Ed's seemingly on a Seventh Son revival tip, scrying with a crystal ball, spinal column once more exposed through an open throat flap. 
---
The Final Frontier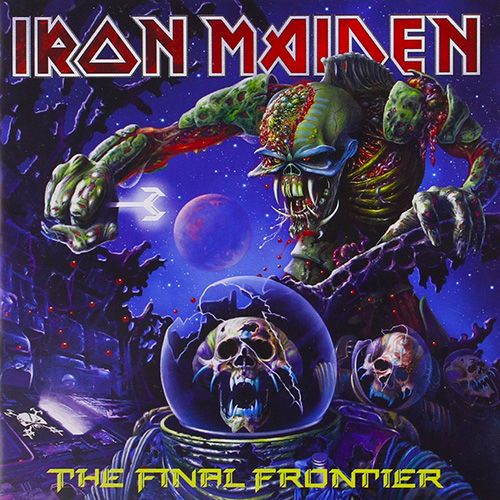 Maiden re-embraced sci-fi aesthetics in 2010, but Melvyn Grant was by now receiving so much flak for his un-Eddie-like Eddies he announced that the dripping red alien monster on The Final Frontier's sleeve was not even meant to be Eddie. The band disagreed, and Anthony Dry's lush comic-book imagery for El Dorado presents a slightly more Eddified version of the mysterious space beast.
---
The Book Of Souls
For Speed Of Light, the first single from Maiden's sixteenth studio album, Eddie was reimagined as a digi-hopping game invader, popping up in all manner of classic era video game archetypes as he battled his way through til the bitter end. Being sucked into a computer universe seemingly works wonders on our hero's teeth, displaying a straighter and whiter set of gnashers here than we've ever seen in Eddie's 'ead before. His mane of neon green fibre-optic hair is pretty fetching, too.
Eddie's first head-and-shoulders cover portrait since 1980, Mark Wilkinson's Mayan Ed for The Book Of Souls is a focused triumph, our tribal-scarred hero peering out of a jet-black background, leaving behind the cluttered tableaux of recent years to reassert the snarling menace and attitude that first made us fall in love with the mad old bastard. 
For a limited Record Store Day picture disc gatefold, Maiden turned to Hervé Monjeaud, the French artist who redesigned Derek Riggs' Maiden England video sleeve for its 2013 DVD reissue, for the Empire Of The Clouds release. Bursting through a copy of the Mirror carrying the tragic news of the R101 disaster (the subject of the song), Eddie reaches to grab the stricken airship out of the clouds, as the vast shadow of long-time Maiden sleeve art cameo the Grim Reaper surveys his grim handiwork.
The Book Of Souls: Live Chapter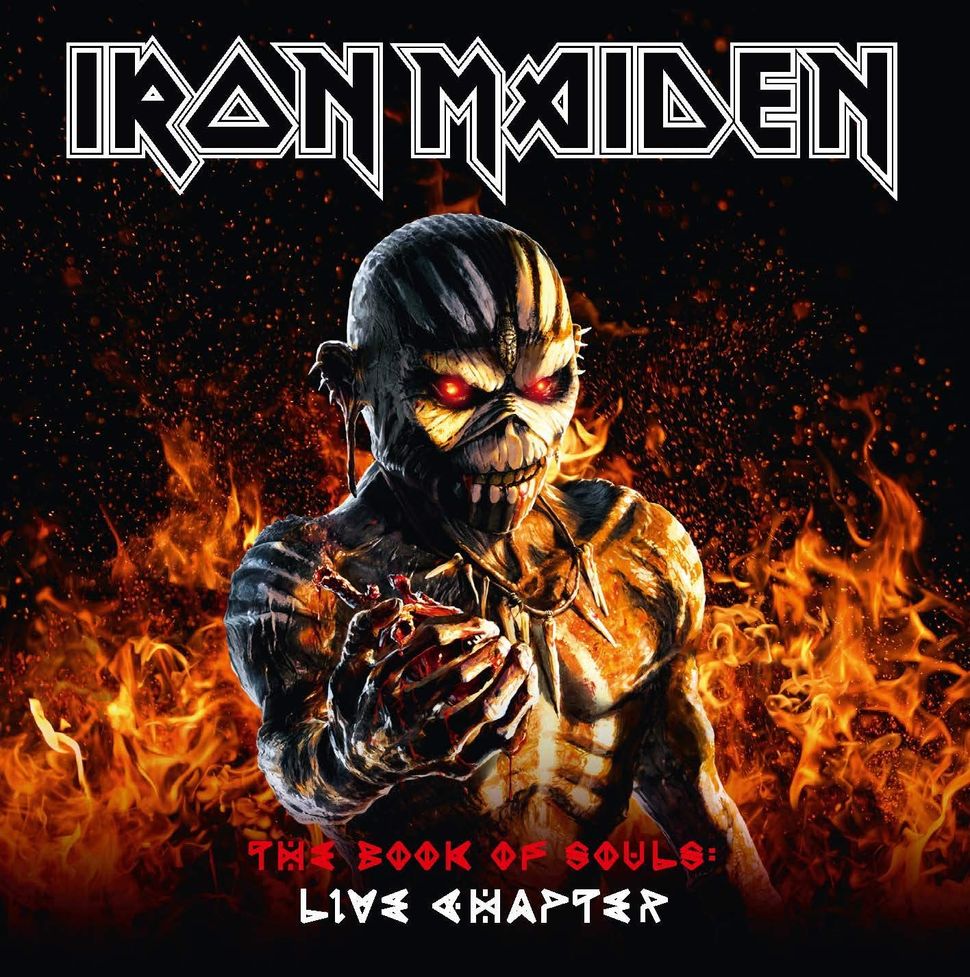 With a sickly grin, Mayan Eddie looks a little happier – and a lot hotter – here than the curious snarl of The Book Of Souls' studio chapter. Surrounded by spitting flames and burning ash, clutching a heart in his hand, old Ed is evidently starting to enjoy being let loose in this ancient Mesoamerican civilisation.
---
Nights Of The Dead, Legacy Of The Beast: Live In Mexico City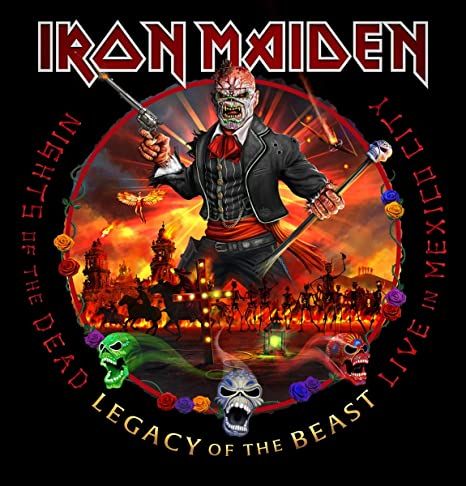 Another live album, but this time our Mr E. Head has made an impressive effort with the clobber, looking better dressed here than we've seen him since, what, The Angel And The Gambler CD1? Wielding a shooter and skull cane, his tribal war paint takes on a carnival feel as he looms over a Mexican cityscape in flames, flanked by skeletal demons, Sombrero-wearing banditos, colourful skulls and roses and references to Flight Of Icarus and Aces High. The iconic power of this particular Eddie was attested by the release of that ultimate arbiter of pop cultural approval: a Funko Pop figure.
---
Senjutsu
There are few more metal images than the Grim Reaper on a motorbike surrounded by flying eagles. However, in the Senjutsu Super Deluxe edition, the Blu-Ray cover of the epic Writing On The Wall animated video adds a giant Samurai Eddie flashing his great big sword, as well as the rest of the Biker Horsemen of the Apocalypse. No wonder the box set also included a seventeen-inch poster of the image.
With an extra pair of fangs poking through bloody gums, battered metallic battledress, copious bloodstaining and an arsenal of weaponry at hand, Senjutsu is Eddie at his most flat-out bloodthirsty, shit-scary. Maintaining the stark black backdrop from The Book Of Souls – with an expression and posture echoing Killers, where TBOS echoed the debut sleeve – our hero manifests in terrifying Samurai form, ready to captivate a new generation of wide-eyed youth. Artist Mark Wilkinson told us that Steve Harris emailed him pages of imagery for reference: "There were samurai warriors and creatures from Japanese oni mythology – ogres with one or more horns growing out of their heads, plus an extra set of fangs. There were kabuki masks and tattoos, Japanese water dragon… all sorts. It was up to me to interpret it."
About Author